MAGNAFLUX
MAGNAFLUX, a division of Illinois Tool Works, for over 70 years has been a leading global supplier of magnetic particle, dye penetrant inspection equipment and associated chemical products used for non-destructive testing all over the world. Whether testing a small bolt or a large turbine rotor, MAGNAFLUX offers a range of high-quality Magnetic Particle Inspection equipment for every application.
---
Spot check Help your best get Better Features
SPOTCHECK Red Dye Penetrant set (DPT) is the most reliable and widely used penetrant inspection method that reveals cracks and other surface discontinuities in virtually any non-porous material.
SPOTCHECK having a far superior ability to visible solvent removal for high sensitivity and high concentration of quality dyes, together with high quality solvent, provides the best possible dye penetrants for finding the smallest and finest defects. Other products may skimp on dyes or used inferior solvents that cut costs. In doing so, indications do not appear as bright or vibrant and cracks can be missed. Some inferior solvent may also cause health hazards.
The vivid red colour (not the pale pink you seen in other penetrants) combined with better capillary action results in clear & sharply defined flaw indication. Available in Solvent Removable type for use on smooth surfaces and critical application, or "Water-washable" type for better removability on rough surfaces (e.g. casting or weld inspection) Specially recommended for Titanium, Nickel & Special Alloys as well as for nuclear applications.
---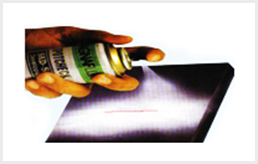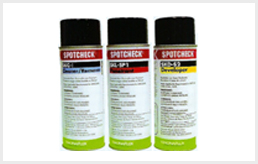 MAGNAGLO MPI PRODUCTS
MAGNAGLO MPI - Fluorescent Magnetic Particle Inspection:
Fluorescent and colour contrast
Oil & Water based products
Ready to use inks
Magnetic Inks & Powders are used with magnetic particles inspection equipment to locate surface & near surface flaws in ferrous components.
---
CARRIER OIL for MPI (Substitute for Kerosene)
MX-MG Carrier II – Is a wet (Oil) method magnetic particle suspension vehicle. The carrier is used when water is not to be used as a suspension vehicle. The carrier allows for good particle mobility & supendibility. CARRIER II is virtually odorless. Strong & rugged to withstand rigorous NDT/MPI/LPI use. It does not exhibit self-fluorescent like kerosene under black light. During inspection with MX/MG Carrier II only fluorescent magnetic particles will glow & back-ground will be clear where as with Kerosene back-ground will glow blue & hence can mask very fine defects / cracks.
Flash point over 93o C (200o F).
Better contrast will result in better flaw detection. Hence less rejection.
It is odorless unlike kerosene which has a typical unpleasant (irritating) odor.
Evaporation is slow as compared to kerosene. Extended sump life will give cost saving.
---

---
ZYGLO LPI PRODUCTS:
ZYGLO Liquid Fluorescent Penetrants:
The Zyglo fluorescent penetrants are formulated to offer improved sensitivity, brightness and resistance to over washing. Just like our visible penetrants we use high quality raw materials to give superior results in finding defects. Our ZYGLO Penetrant products are known in the industry for their consistent performance and reliability. They are preferred by many of the largest aircraft manufacturers and overhaul facilities.
MAGNAFLUX manufactures penetrant materials, accessories and equipment, making us a one-stop shop. We are involved in the total process from start to finish, and produce our products to perform to the utmost of effectiveness when used together.
Liquid Fluorescent Penetrant for Crack Detection Suitable for Dipping / Spraying for Non – Ferrous material.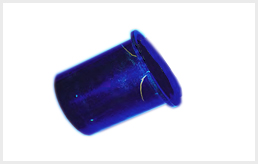 BLACK LIGHT SYSTEM
MAGNAFLUX ZB-100F BLACK LIGHT SYSTEMS :
ZB - 100F, 100 WATTS designed for use with fluorescent dye penetrant and magnetic particle inspection processes, generates and emits ultra violet light with a wave length of 365 nanometers, the preferred wavelength for NDT inspection. Typical UV Intensity at 325mm is 4000 microwatts per cm2. The ZB – 100F is lightweight, well balanced, and has a cool* running temperature which provides superior operator comfort.
UV SUPER FLOOD LIGHT, 400 WATTS high intensity UV-Light system provide the best direction to a safe test. A quick and reliable recognition of the fluorescent indication from a defect under both daylight and no light conditions can only be guaranteed when sufficient UV intensity is available. Provides the most accurate inspections of even the largest and inaccessible area. The UV Intensity measured – 6500 – 7000 microwatts per cm2 at 12".
MAGNAFLUX (Tiede) UV-LED Portable Light captivates with its totally new UV-LED techniques and it light and compact design. It goes without saying that it meets the latest standards and regulations. The UV – Intensity (distance 300 mm) 18 W/m2.

---
ELECTROMAGNETIC YOKE:
Electro Magnetic YOKE Y – 7: The light weight electromagnetic yoke is the ideal tool for detection of surface or sub-surface cracks and flaws in any ferromagnetic material. No other low cost, portable equipment offers such versatility in Magnetic Particle inspection. Fast and simple to operate. It is widely used with either dry or wet method fluorescent or non-fluorescent magnetic powders. In the testing of welds, automotive or railroad components, machine parts, steel & grey iron casting, forgings and plant inspection, maintenance & repairs.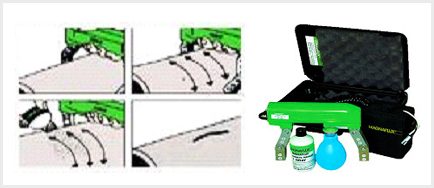 MPI & LPI Acceessories & Equipment
MAGNAFLUX ACCESSORIES: For MP & LPI testing like :
MPI : Filed Indicator (Gauss Meter), Pie Field Indicator (Hexagon Master), Centrifuge Tube with stand, Copper Pads, Ketos Ring, Puffer Bulb, MTU Test Block, Test Bar & QQI Shim
LPI : TAM Panel, Nickel Chrome Panel, Spot Meniscus Kit, U.V. & White Light Intensity Meter, Adjustable Swivel Fixture for ZB-100F & U.V. Goggle.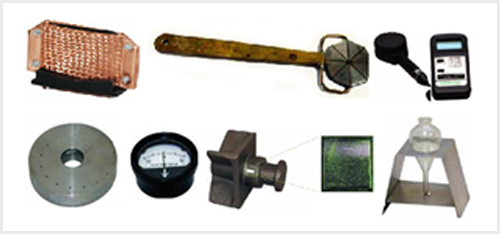 ---
MAGNAFLUX MPI & LPI EQUIPMENT :
AC & HWDC / FWDC
Solid State Infinite Current Control
Self Regulating Output
Protection against overload
Current Assurance Indicator
Digital Current Indication
Combination shot
Stainless Steel for Corrosion Resistance
Special Internal Bath Agitation System
Pneumatic change over switch
ASTM E-1444